I am committed to serving the community in which I live, work and play. I believe it is important to take an active role in helping to better someone's life. One of my favorite organizations is Action Ministries, more specifically, The Atlanta Women's Community Kitchen, which served approximately 20,165 meals in 2012.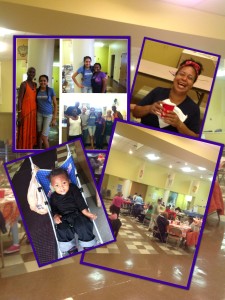 I first got the opportunity to volunteer at this phenomenal place when Tyler Perry gave free tickets to his movie, "Good Deeds", to those who volunteered at the kitchen. Katherine Bailey is the coordinator and I observed her talking with the women who came to get a hot meal and fellowship with one another. Action Ministries believes, and I concur, that relieving people of searching for their next meal enables them to shift their focus from survival to finding a lasting means of supporting themselves and their families.
It was almost two years ago that I got that opportunity to serve at this Atlanta area nonprofit organization and I continue to serve these women each day that I can. The Atlanta Women's Community Kitchen is open 5 days a week feeding homeless and low-income women and children a hot meal from 11:00-12:00 p.m. Katherine, the volunteers and the clients have enriched my life more than they will ever know.
If you would like to provide funds, donate food, clothing, other goods or services and/or your time to the Atlanta Women's Community Kitchen, please contact Katherine Bailey. Email her at kbailey@actionministries.net or call her at 678-760-7025. Please visit their website at www.actionministries.net.
In addition to my time, for every home that I close, I will be donating money to this deserving organization. Please help me to help them! You can reach me at 678-849-6920 or email me at aleta@yourmodelrealestate.com.